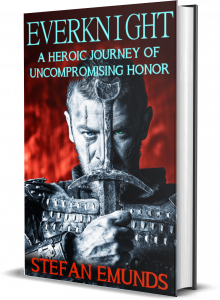 EVERKNIGHT by Stefan Emunds is the story of a knight who lost his life in a bet and was given one year to live before paying his dues. Not only did this knight go to his execution free-willingly, but he also weathered hardship and temptations to get there.
Crazy? Stupid? No such man?
Men and women like this knight have walked this earth. They did their thing no matter what. And they embraced death in a climactic act of honor.
Socrates drank the poisoned chalice instead of escaping the prison. Jesus walked that walk. Martin Luther stood there and didn't want otherwise. Ghandi suffered through passive resistance and was ready to die fasting. Nelson Mandela endured a life of prosecution and so did Aung San Suu Kyi. After Bob Marley was shot, his honor allowed him only two days rest before going back onto the stage and performing in the name of peace. Martin Luther King Jr. died pursuing freedom for his people.
We forgot about honor. It's time for a story.
Get an advanced reader copy now and see the Eight crafts of writing in action: 
The Eight Craft's analysis of Everknight
Big Idea
What if a man lost his life in a bet and was given another year to live — would he go to his execution free-willingly? Everknight is a tale of uncompromising honor.
Genre
Medieval heroic fantasy with a touch of literary fiction.
Narrative
Limited and deep POV.
Story Outline
Story length: novella.
Everknight's story outline conforms to the Eight Crafts story cycle with deliberate variations. To avoid spoilers, the analysis of Everknight's story outline isn't included here. You can read it at the end of the ARC.
Characterization
Who goes to his execution free-willingly? Socrates, Jesus, and the protagonist of Everknight. Stefan had to dig Freudian-deep into character to make that plausible.
World Building
Everknight plays in two worlds: medieval England around 800 A.D. and the soul world (the fantasy setting).
Scene Structure
All chapters have proper orientation and (subtle) hooks. The opening scene raises thirteen story questions in just 458 words.
Prose
Margie Lawson, the owner of the Lawson Writer Academy, and Stefan went through Everknight line by line to take the prose to a literary fiction level.
Claim your advanced reader copy, enjoy the story, and see the eight writing crafts in action: