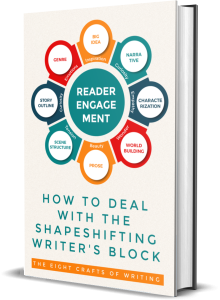 – Advanced Reader Copy Available –
How to Deal With the Shapeshifting Writer's Block explains the difference between the author's block and the writer's block, dives deep into the different manifestations of the writer's block, and gives tips on how to unblock yourself and beat resistance.
If you want to have a free copy of the ARC of How to Deal With the Shapeshifting Writer's Block, please subscribe:
A free advanced reader copy of 'How to Deal With the Shapeshifting Writer's Block'
READ THE OPENING: 
A blank page is perfect.
The first letter you put on a blank page destroys that perfection.
In this respect, writing is the attempt to regain the perfection of a blank page. Of course, that's impossible. But we can get close to perfection, maybe even as close as Adam's finger got to God's finger in the painting Creation of Adam by Michelangelo.
The writer's block prevents you from approaching divinity. The writer's block is not a wall. It's kinda alive. To make matters worse, it can shapeshift.
The writer's block can be the blank page that grins at the author.*
It may become a wall that blocks off creative ideas — that's where it got its name from.
It can become a cul-de-sac, too: when an author writes herself into a corner.
And it may shift into the I-don't-know-if-I-can-write scarecrow.
Let's put an end to this charade.
* Never stare at a blank page!

The Difference Between Art and Craft
Storytelling is both art and craft, authoring and writing, plotting and pantsing. 
Art and Authoring
Authoring is creativity. Authoring translates inspirations into stories. 
Inspirations have the form of thought images, which authors put into words.
How to turn inspirations into words and assemble those into a structured story with vivid characters and an engrossing world is a matter of craft. 
The Writing Craft
The literal meaning of Kung Fu is a discipline achieved through hard work and persistent practice. Writing is Kung Fu. Writing is a matter of skill.
Craft gives forms to inspiration. Forms limit. Writers love the artistic side of writing, less so crafting, in particular, crafting a story outline. Writers are prone to procrastinating crafting.
But no limitations, no story. No canvas, no painting. No net, no tennis.
Understanding the difference between freedom and dominion helps to appreciate the constraints of craft. Freedom is a means to an end. We want to be free to do something, for example, to write a book. That's all there is to freedom. Dominion, on the other hand, is mastery of structure.
The Difference Between an Author and a Writer
You are both an author and a writer. Your inner author is the artist. Your inner writer is the crafts(wo)man.
Accordingly, there is an author's block and a writer's block.
Let's have a look at the author's block first…
If you want to read the advanced reader copy, please subscribe:
A free advanced reader copy of 'How to Deal With the Shapeshifting Writer's Block